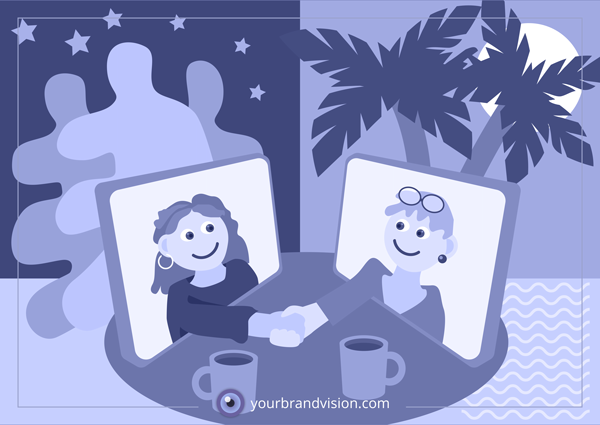 I have just returned home after having traveled in Norway for almost a week, where I have done many nice and useful things both professionally and privately.
To be on the road like this, really makes the benefits of working virtually very very clear. I really feel quite grateful for being able to work virtually most of the time. It is when you have to travel long distances that you fully realize how easy everything has become by using e-mail, Dropbox, Zoom, Skype, video, virtual teaching platforms and e-courses. I have started to take these tools for granted. During my most recent stay in Norway, I was attending an after-work event in Oslo, which may as well be called a network meeting. And that, you may say, is  NOT possible to do virtually? Yes it is. Every week I attend a virtual network via Zoom and it is very useful and nice, with great people. In fact this week we are having an open house, if you would like to look in to see how it is. Here is the invitation.
More virtual things: My newsletter reaches you thanks to my virtual assistant, Aimee, who has been a very important part of my business for almost 5 years. She is located somewhere in the US, and in fact until I asked her today, I did not know exactly where. Her location has never been of any significance to our work together. This shows very clearly that great professional relationships are not dependent on geographical locations.
If I sum up very quickly WHERE my clients and contacts are located from time to time, I can see that this Fall I have worked with or met with people who have been in Norway, Sweden, Germany, Italy, France, diverse places in the US, including California (which was somewhat challenging time zone wise, but worked out beautifully.) Also, I have worked with someone on Svalbard, a Norwegian island located very near the North Pole – you will probably have to look it up on a map.
Graphic Design and Visual Branding are services that seem to have been created to work in a virtual environment. We are forever grateful to Adobe's PDF file format which enable us to show ideas, sketches and final solutions with perfect clearness and bright colors. Meetings with the client and her team can be held on Skype or Zoom, in your slippers, if you want to.
Working virtually does not make it more difficult to identify with the client, the assignment or the organisation. I have always loved to call myself a virtual in-house designer, which does NOT sound like a contradiction to me. I use my long time experience as an in-house graphic designer combined with a virtual appearance and can be part of your team no matter where we are all located.
One of the benefits of virtual work is that it saves us both time and money. Should we decide to meet in person, we'll have more resources to use on this and can make the occasion into something more useful and inspiring than a short corporate meeting before we have to run off to avoid being stuck in the afternoon rush hour.
Give me a call if you want to talk about virtual co-creation!
It is a challenge to know where to start, if you want to work with the visual branding and graphic design for your business. Let's have a talk on Skype or telephone to see how I can help you, starting at the point you're at right now. I am curious about what you have to say. There is no cost for this call. Book a call by sending me an e-mail on: hanne@yourbrandvision.com