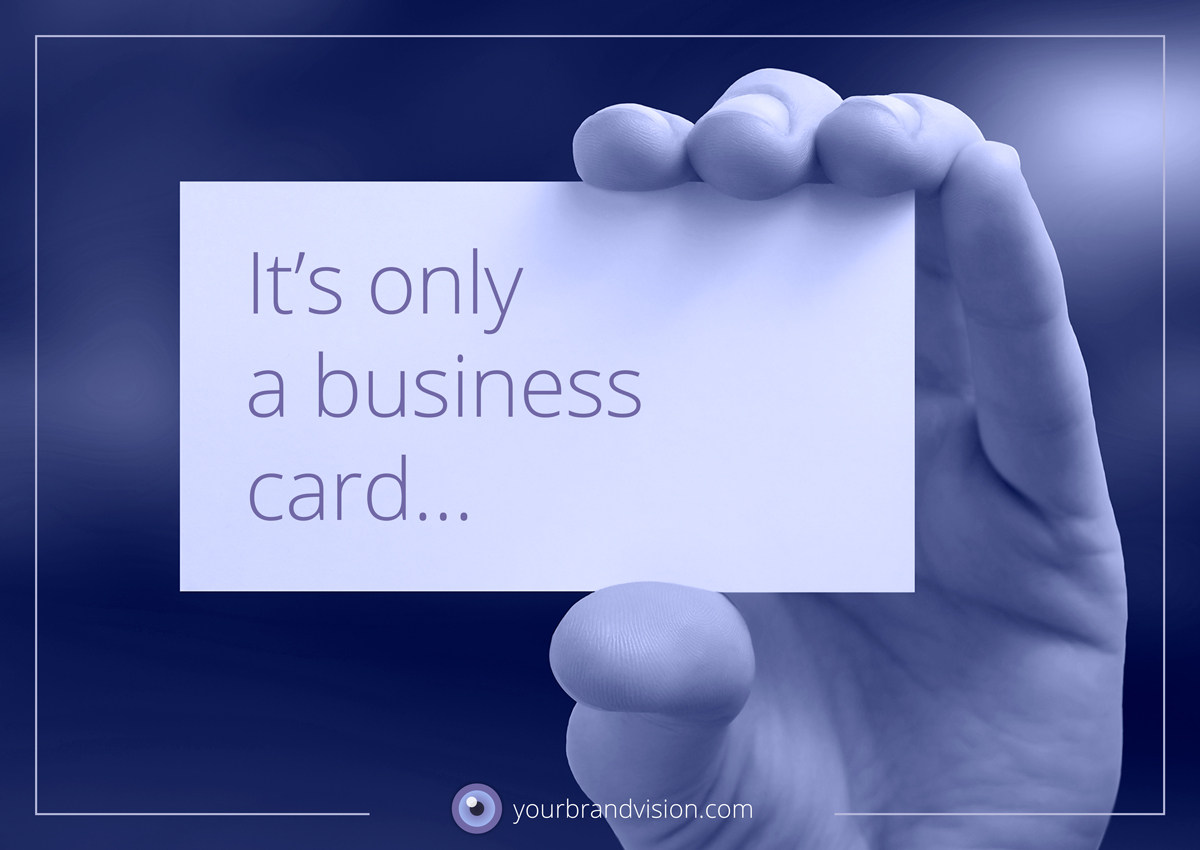 A few weeks ago I had a visit from a very old friend. We chatted for hours and at one point he gave me his business card. He was clearly quite proud of it.
That's nice, – I said, because I don't want to be unsupportive, when someone has had something produced and has paid for it. It's from Vista Print, right? – I said, because I couldn't shut up completely, after all.
– How do you know that?, he asked, with surprise. Then I told him the truth, that it was because the design, – or I would rather say decor. Those spirally things could only come from Vista Print. The cards were as branded as they would have been with a logo on them.
My friend also showed me some professional portraits that had been done for him and they were really very good!
He then left and drove on, but the business cards and the portraits continued to swirl around in my mind and I could not get rid of the urge to find out how they could work together. Here's the result: When we order business cards or other items from Vista Print (or similar providers), we have the following options:
1. We can use one of the premade designs
2. We can upload an image or a logo and use Vista Print's selection of  somewhat "fantastic" fonts.
3. We can upload a PDF with our own design.
I know that this last option sounds difficult. It is not a given that everyone feels comfortable doing their own design. This is why you should hire a graphic designer to do this for you. Then the two of you will be able to create a business card that is authentic for yourself and your business. A card that is individually customized for you and uses your graphic profile, if you have one. If you don't, a business card is a manageable place to start one.
It is not very funny to attend a conference and discover that a colleague in your niche has chosen exactly the same Vista Print decor you have chosen.
IMPORTANT: This is not meant to be speaking down of Vista Print. I love them and have expressed my admiration of their speed, quality and customer support several times in my earlier newsletters. It is not like all the pre-made designs are "bad", some of them are actually quite smart. My point is that the designers making these designs have never met YOU! Consequently, they cannot make anything based on a knowledge of you and your business that they lack.
I have to smile when I see the collection of pre-made designs with Vista Print. There is so much creativity! The examples remind me of when we went to design school and were so eager to design and so full of ideas, that we made all kinds of materials and logos uninvited, without having an assignment or order of any kind. We were just hoping that one day we would have a customer that fit into the designs we had made.
Out of school, we learned fast enough that this was the wrong order of things. A design that has the job of communication for a business, will always have to START with the business and mirror its authenticity and individuality – not the other way around.
But of course, playful practice is always good!
Are you in need of a business card? It is a challenge to know where to start, if you want to work with the visual branding and graphic design for your business. Let's have a talk on Skype or telephone to see how I can help you, starting at the point you're at right now. I am curious about what you have to say. There is no cost for this call. Book a call by sending me an e-mail on: hanne@yourbrandvision.com