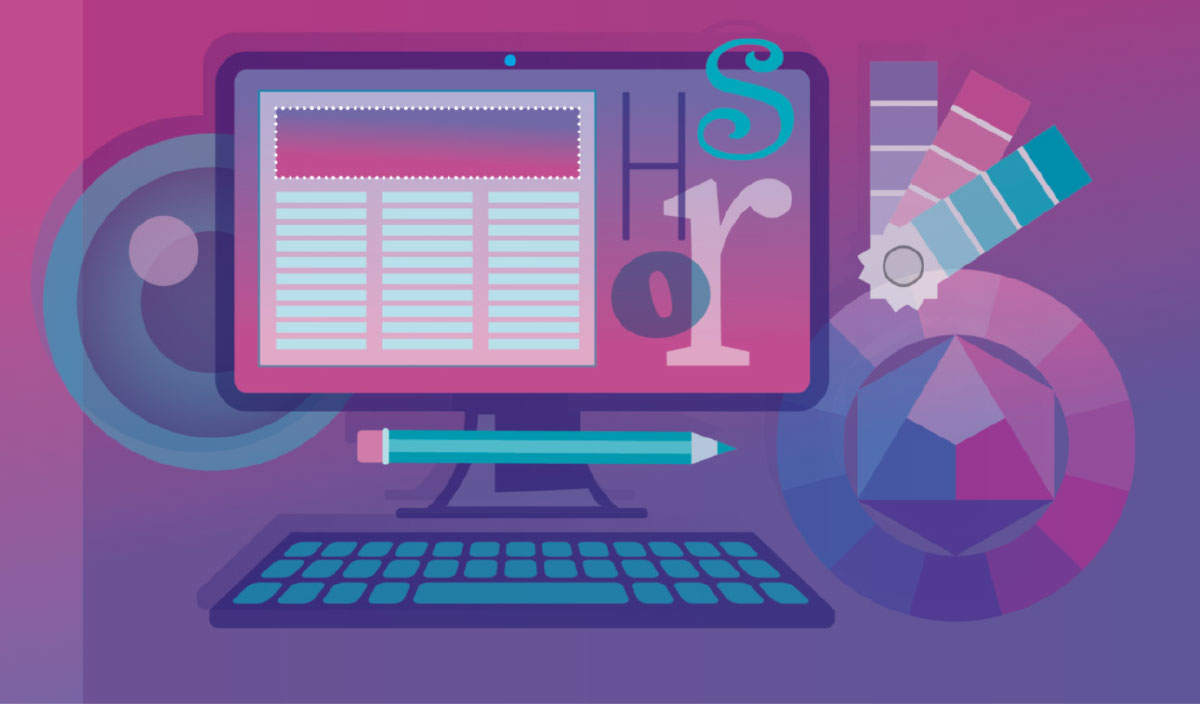 About a year ago I launched Broter School of Design. A small but very enthusiastic group of students will shortly finish their "first year in school" and yesterday we had our live "Monthly Graphic Class" for February, only the March one is left. 
The Monthly Live Classes are held on zoom and are an addition to the course "Graphic Design 101". This course consists of 30 video lessons with transcripts and exercises. In "GD 101" we work with the basic principles of Graphic Design, and most importantly: We train our eyes to observe consciously and look for the crucial things of the design. The course is software-independent. However, some of the students are long-time users of Canva, so it is natural that we sometimes look at how we can implement graphic solutions in Canva. 
What people learn in "GD101" can however be used whether you do your graphics in Powerpoint, Indesign, Photoshop, or any other graphic software. 
Every week I issue a "Graphic Note". This is a short and compact note on a graphic topic. They tend to be humorous. I like "edutainment" when we can have some fun as well as learn something. These short e-mails do however make up a valuable supplement to the school. From time to time we have a "Graphic Quiz" in class, based on the content of the latest Graphic Notes, then it is useful to have read the weekly input. 
YOU can also subscribe to the Graphic Notes if you like. ( I will not automatically enroll you in the school if you do). I have made this small collection of earlier notes if you would like to have a look: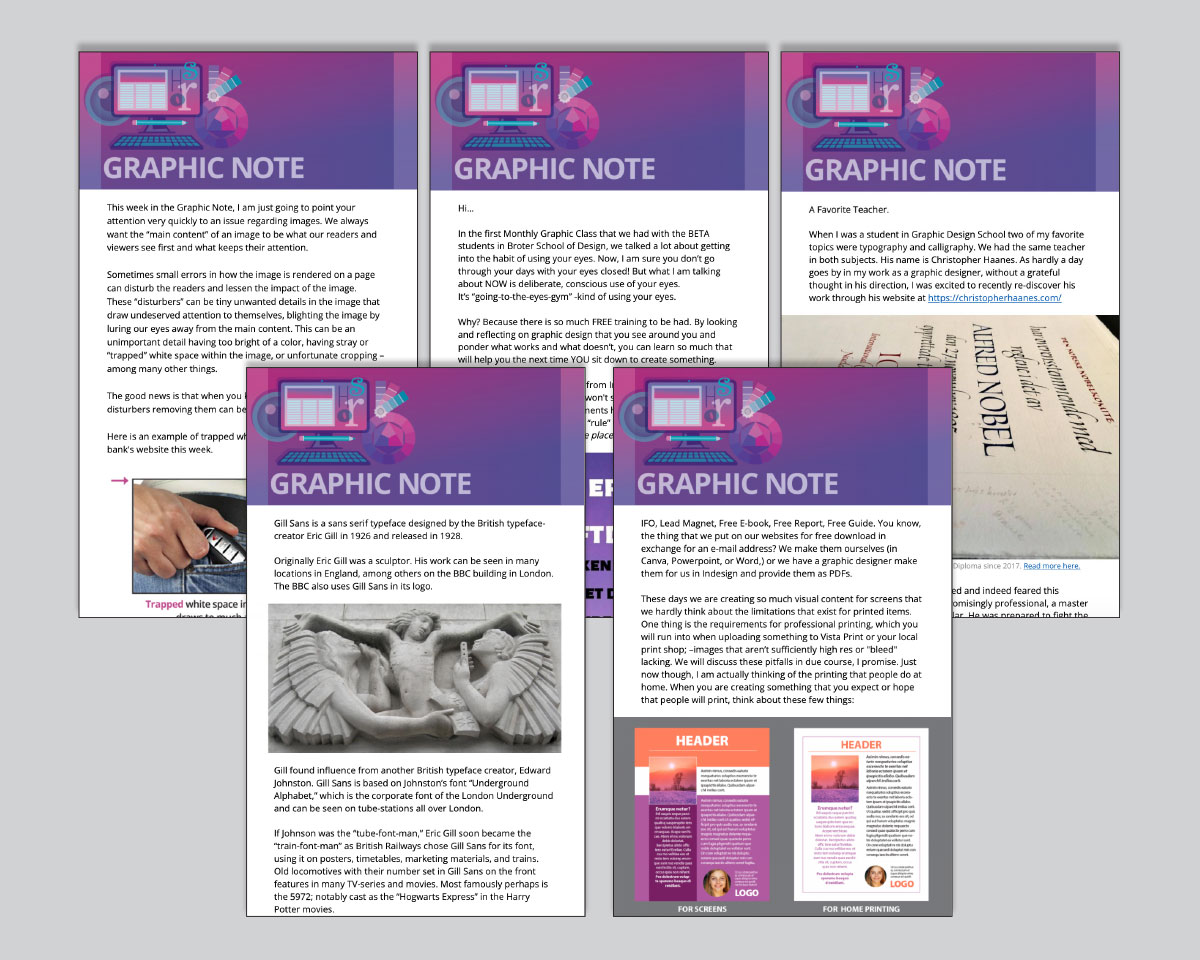 You can subscribe here. Look at the bottom of the page.
During the first year in school, some important basic terms of Graphic Design have become common knowledge with the students, and some have even got their own names with us. What is the meaning of "The heart of the image", "The Swim Ring Principle", "Visual Leaks", and "The Box within the Box"?
You will get to know these if you visit us!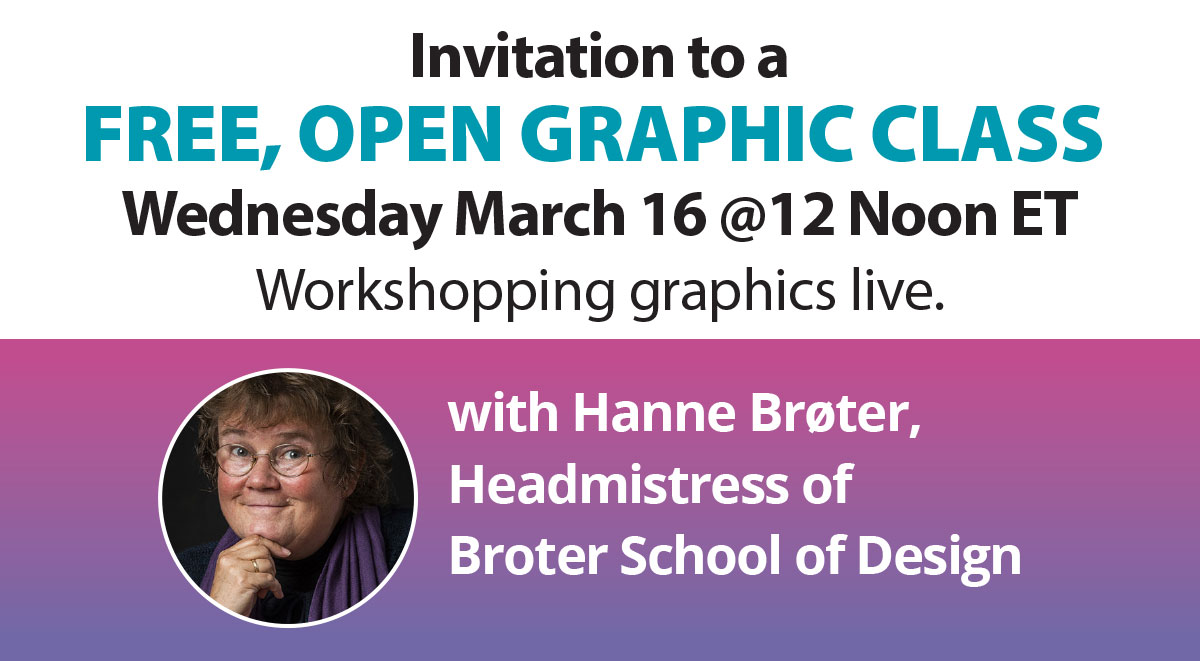 Wednesday, March 16 at 12noon ET I will run an open Graphic Class on ZOOM. This is a workshop where you will get an impression of how we work in the Broter School of Design. Feel free to bring a friend or colleague who may also benefit from some simple graphic tips with great effect. The course "Graphic Design 101" is suited for:
• Entrepreneurs who want (or need) to make their own graphics, like social media posts, flyers, business cards, or similar things.
• Marketing professionals who do not have any graphic training, but find themselves doing graphic work anyway (boss' orders)
• Virtual assistants who want to add graphic competency to what they can offer their clients.
• Youth who are looking to have a career in visual communication and who need a strong dose of compact graphic input and inspiration before an entrance exam for higher graphic education.
Let me know if you will be with us at the Open Class by registering here.
See you there!
Warmly
Hanne

In the Broter School of Design, Hanne teaches students how to use the two most important tools of the graphic trade; the eyes and the brain. You have to know in order to learn how to see. Most of us don't know what we don't know, so seeing often becomes guessing. Hanne takes the guesswork out of making great graphics.