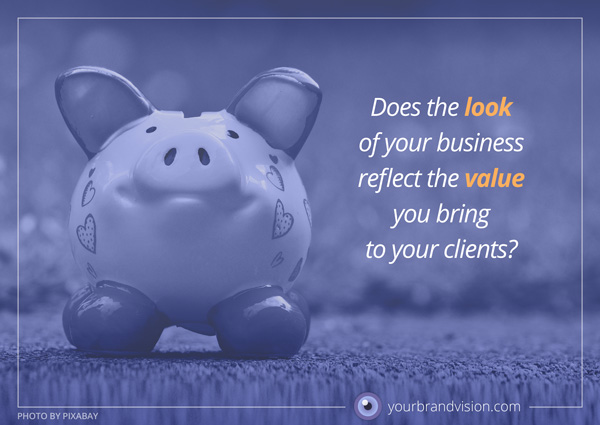 The summer in Norway is coming to a slow end. I find summer a great time for reflecting and planning. When the buzz of everyday life calms down, new thoughts can come through.
This summer, I have been working on a new version of my website and my free, downloadable e-book. This has once again made me think of the tremendous communication challenge everyone who is working with graphic design, visual branding or in any way with the visual representation of something or someone has. The hard thing is to explain to people WHY it matters how their businesses LOOK. So far, I have concluded that it has very much to do with VALUE.
As a new entry text on my web page I have written this question:
"Does the look of your business reflect the value you bring to your clients?"
My present and future ideal clients are service-offering businesses who REALLY bring huge value to their clients. What do I mean with "value" in this context? Money? Yes, of course, but not exclusively! I don't work with people whose goal it is to "sell" as many products as possible to people, and forget them (or even know who they are.) I leave this to graphic designers and marketers who help people sell detergents, ice-cream or blue jeans.
My ideal client help people make LIFTS in their lives or business which have long-lasting and deep effects. For this remarkable work, they should, of course, be paid accordingly. However, even a premium price will not always reflect the real and long-lasting value of their efforts. As this quote usually credited to Albert Einstein, states:
Not everything that counts can be counted, and not everything that can be counted counts.
This is why it is so crucial for businesses that contribute value far into the "not countable", to show this in their visual appearance. If the visible identity of your business consists of randomly gathered visual bits and pieces, it will tell a story about the value of your business that is contrary to your intentions and the truth.
I've used this image often in my communication because I find it very accurate. It is also featured in my book "Brand BoxesTM, Your 9-step process to creating a visually compelling brand".
You will find this book a good place to start if you want to learn more about what you can do yourself, in simple and inexpensive ways, if you want to give a "look" to your business that reflects the value you bring to your clients.
If you need help with this in any way; don't hesitate to contact me!
It is a challenge to know where to start, if you want to work with the visual branding and graphic design for your business. Let's have a talk on Skype or telephone to see how I can help you, starting at the point you're at right now. I am curious about what you have to say. There is no cost for this call. Book a call by sending me an e-mail on: hanne@yourbrandvision.com