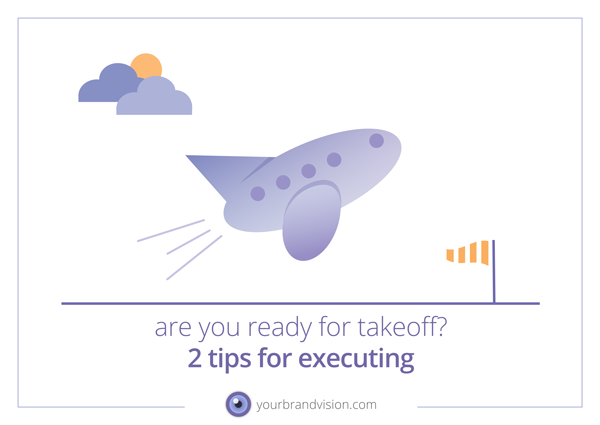 I recently hosted a local speaking gig (which almost turned into a workshop) together with my buddy, Annelie Skistad. The topic was planning and executing of marketing activities. "How does this topic have anything to do with Graphic Design and Visual Branding?", you may ask. In fact, a lot.
Most market activities generate some kind of visual expression.
It may be images, illustrations or graphics for newsletters, social media, newsletters or presentations. Brochures, rollup and business cards for a trade fair.
Nearly every marketing activity we do, requires something VISIBLE to be created and produced. Start with the end in mind. If you know that you will be needing the materials for a special date, count into your planning sufficient time for it being created, produced and sent back to you from the provider.
It has been known to happen that I have had to design something for someone THE SAME DAY that it needed to be sent off to the printer, if the schedule was to be kept. Hanging like a loose rag behind your own (or others!) schedule does not feel good!
I think many of us have a very clear experience of this uncomfortable state, – myself being no exception for sure.
Entrepreneurs often plan very briskly, but stumble somewhat regarding the implementation and execution. In our workshop Annelie and I shared 2 learnings for taking an activity from planning to completion.
1. Make a visual representation of the activity. If you create a folder on your PC for, let's say, every newsletter you plan to send for the rest of this year, and a calendar where the "newsletter days" are marked with a certain color, it won't be so easy to skip this activity. It already exists and can been seen right there, on your computer.
Everything we can see with our eyes has a greater chance to attach itself to our consciousness and become "real". We remember them quite differently than things we have just loosely planned. "I was thinking of starting a newsletter this fall" can be a thought that you carry around until Christmas, when you suddenly realize that "the fall" is long gone.
2. Make a checklist. Every activity requires a lot of "sub-activities" to be done and we can make these into a list where we can tick off things as we get them done. A checklist for making a new brochure can, for instance, have these points:
Talk to your graphic designer and ask about a draft. When will the designer need to have all the input to be able to give you a draft on a certain date?
Brainstorm the content and message. What are you going to say?
Decide on size, format and the number of pages. Ask for your designer's advice if uncertain. You'll have to adjust the scope and length of your message accordingly.
Find, buy or take photos. If your brochure has a portrait (high) format, wide panoramic images will not be a good choice, and vice versa.
Don't try to put a square peg into a round hole!
Make sure the images have sufficiently high resolution for print.
Send you input to your designer on the appointed day
Get the draft corrected, approved, and upload/send the final PDF to the printer/provider
Choose a method of transport that will let you have the brochure back in time for use.
We may smile over checklists as they can seem old-fashioned, but don't underestimate them. In fact, they are what we trust in every time an airplane lifts and climbs into the sky.
Are you ready for takeoff? It is a challenge to know where to start, if you want to work with the visual branding and graphic design for your business. Let's have a talk on Skype or telephone to see how I can help you, starting at the point you're at right now. I am curious about what you have to say. There is no cost for this call. Book a call by sending me an e-mail on: hanne@yourbrandvision.com