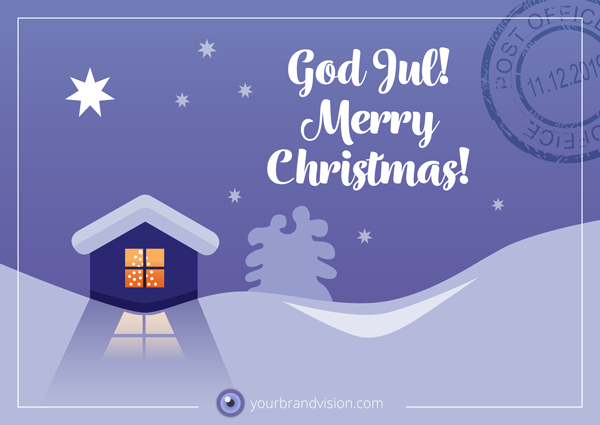 Did you manage to write and send all your Christmas Cards on time this year? GREAT! And what about your e-mail newsletters? Did they all go as planned? The two tasks are, in fact, quite similar. In both cases, we have a list of adresses and a clear deadline. The core message of the Christmas Card is fortunately a given, if you don't have other ideas or you find yourself in a hurry, you can always just write "Merry Christmas and a Happy New Year".
Finding the core message of your e-mail newsletters from month to month is perhaps a bit more challenging. I think many of us stop our own creativity with taking the "NEWS" part too literally. We stiffen when charged with coming up with "news" from our own business. After all most of us do not run newspapers or launch new activities at such a rate that we can report on it in a "newsletter" every week or month.
For me it has been helpful to think of the newsletter as a small magazine going out via e-mail.  I have also found it helpful to set the dates in advance and make a folder for each newsletter on my mac. This way, I can fill up the map with ideas as I get them, usually whilst doing totally different things than sitting down in front of an EMPTY document, to "write my newsletter" now.
Do you find it difficult to come up with content? I can help you! Not to write the very words, you must do that yourself for them to be authentic, and you know your own business best. However, I would love to help you with brainstorming ideas for content and making an editorial calendar. I offer a newsletter workshop where we can create a publishing calendar for let's say the next 6 months.
What is needed for a newsletter apart from content? A platform such as Mailchimp or Getresponse or any other of your choice. A Template into which you can easily feed your content, so you will not have to "design" the newsletter every single time. Visual Branding & Graphics, to stay visually consistent. If you want help to start a newsletter or get the one you already have out on a regular basis, let us work on it together. Send me an e-mail at hanne@yourbrandvision.com.
In my native language, Norwegian, we have a proverb describing the feeling of huge stress that strikes you when you realize that you are soooo very behind your own schedule that things get a bit out of hand. We say that something comes upon us as "the Christmas to the Housewife". Even if she has known about it for months and it turns up at the same time every year, somehow, she never gets "ready" with all tasks before the day arrives.
I wish you a joyful Christmas Holiday!
It is a challenge to know where to start, if you want to work with the visual branding and graphic design for your business. Let's have a talk on Skype or telephone to see how I can help you, starting at the point you're at right now. I am curious about what you have to say. There is no cost for this call. Book a call by sending me an e-mail on:
hanne@yourbrandvision.com