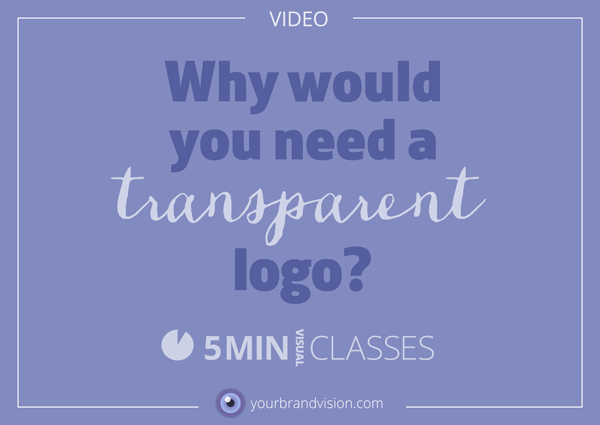 This is the third video in the series "5MIN VISUAL CLASSES" and if you have not seen the two first, you can watch them here:
IMAGES AND WORDS – in this video you can learn how you can prevent your images and words from fighting for attention when used together. How they become both clear and easy to read when you are making images for social media, your website and elsewhere.
HOW TO USE SPACE – in this video we talk about the importance of SPACE in graphic design and how it can help your message to come across strong and clear.
And in THIS video we ask: Why would you need a transparent logo?
I totally agree that it does not sound like the most convincing visual branding advice, when I ask you to get yourself a transparent logo. Never the less, the fact is that you need one!
Today logos are to be presented in a lot of different contexts and media. They have to be very flexible. In a modern logo archive there should be a great selection of the company logo in various versions. In the video this time I am describing three of them.
Not to extend the video past the 5 minutes limit for the "5MIN VISUAL CLASSES",
other versions will be covered in another episode.
I hope you will find this info useful and I encourage you to share your thoughts on the video and ideas for material that you would like to see covered in later episodes.
If you think of someone while watching this, that also would find this information useful, please share with them!
Now, let's see why you would want a transparent logo! It is a challenge to know where to start, if you want to work with the visual branding and graphic design for your business. Let's have a talk on Skype or telephone to see how I can help you, starting at the point you're at right now. I am curious about what you have to say. There is no cost for this call. Book a call by sending me an e-mail on: hanne@yourbrandvision.com